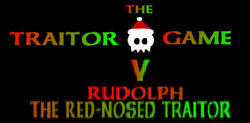 Traitor Game V was a special holiday-themed Traitor Game hosted by Weirdopky. Inspired by 'bad Santa' characters such as those appearing in Weird Al Yankovic's 'The Night Santa Went Crazy' and The Arrogant Worms' 'Santa's Gonna Kick Your Ass', a crazy alternate universe Santa gathered together a whole bunch of characters with a red and green color theme together, claiming they'd all been naughty.
He trapped them in the basement of his workshop, and forced them to play a Traitor Game. Two of them would be the Traitors, who he referred to as 'Renegade Elves'.
The crazy Santa had an even crazier hooded assistant, whose identity, when revealed, came as no surprise at all (the title of the game was pretty much a giveaway). The identity of the last Traitor, however, was indeed a surprise.
Among the characters gathered were the elder Cologne (Ranma 1/2), played by Chris Lang, Dr. Doom (variant Marvel), played by The Purple Skull, and Donna Troy (Teen Titans), played by tangentman. All of these characters would go on to become hosts in later Traitor Games.
Though the story was more or less minimal, there was still lots of memorable roleplaying performances. Two of the epilogues were setups for the game that followed.
This game is considered by Chris Lang to be the first act of the Cologne Trilogy (the two games following this one are the second and third acts), and considered by The Purple Skull to be the first act of the Dr. Doom Trilogy, despite there being several games between the second and third acts.
Joe Acro- Flash III/Wally West
Eternal Torment-Onslaught
Superheroic-The Hulk
The Purple Skull-Dr. Doom
Peter Parker-Jimmy Kudo wearing red
moonknight2099-Super Skrull
BYC-The Burger King
Anthony Johanson-The Bard
Indigo Al-Archie Andrews with the Quantum Bands
Young Avenger-Irredeemable Ant-Man
Chris Lang-The Elder Cologne
darkkeeperjr-Eric Cartman
PatrickG-Lex Luthor in the Green power suit
Jeff-E-Ronan the Accuser
Chou Blaster-Kyle Rayner Green Lantern
Hush Little Batman-The Joker
mattbib-Fin Fang Foom
tangentman-Wonder Girl/Donna Troy
External Links
Edit