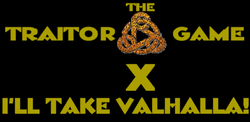 Traitor Game X: I'll Take Valhalla was set in some alternate universe variant of Marvel's Asgard (which also included variants of characters from other versions of Asgard). The storyline concerned the feud between Odin (the ruler of the Norse Gods) and Hela (goddess of death) over the ownership of Valhalla.
It was hosted by Indigo Al. A more detailed summary may come later. Several stand-outs in roleplaying here: Ares claiming Grimlock as his "steed"; Tara & Bo striking up a friendship; Peter Pan antagonizing various players; Miss Piggy's delusions of celebrity grandeur; Dwight administering "personality tests" to identify the best Traitor suspects, and of course, the debut of Bob & Karl.
Controversy
Edit
Deadpooligan traded "insider info" with surviving Agents via private messages to expose the Traitors. That ploy sabotaged the likely victory the Traitors would have enjoyed. There was an outcry, heated discussion, which was resumed in Game XIV when a similar situation arose. The incidents of these two games resulted in a "No Trading Inside Information" rule. Agents may no longer share Traitor identities through PM or after Agent eliminations.
Player/Character list
Edit
Odin (benevolent co-host) - Indigo Al
Hela (antagonist co-host) - Indigo Al
Havik and Gan Ning (Mortal Kombat) - Jeremi
Grimlock (Dinobots, Transformers) - Kevin M.
Spider Girl (MC2-verse) - Chris Lang
Hotaru (Samurai Deeper Kyo) - Crimson King
Peter Pan - darkkeeperjr
Thorpool (Marvel) - Deadpooligan
Dwight Schrute (The Office) - Donald M
Apocalypse (Marvel) - Eternal Torment
Megaman (videogame) - Froggy
Ty Lee (Avatar: The Last Airbender) - GoGo Yubari
Roy Lincoln (alternate DC) - Joe Acro
Kamen Rider Odin (Kamen Rider Ryuki) - KamenRaida
Bob & Karl (agents of AIM and Hydra - Marvel) - Purple Skull
Miss Piggy (Muppets) - Schornforce
Ares (Marvel) - Superheroic
Tara Maclay (Buffy) - tangentman
Bo (Cursed) - Tommy
Cyborg Santa (Traitor Game V Host) - Weirdopky
Rocky Balboa - mrcelophane
Spider Man (Marvel) - Pheonix No Relation
Laharl (Disgaea) - Anthony Johanson
Greed (Full Metal Alchemist) - kain5252
Burger King - BYC
External Links
Edit